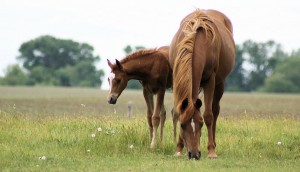 In 1998  my sister, Tina Camp and I together bought two Arabian mares, our first horses. Once we had these two mares, we knew our future was raising and breeding quality Arabian horses. XL Arabians had been started at last! A lifelong dream of owning my first horse, It was love at first site when I found Diamond (aka Pros Mirage). Diamond is a huge part of my life, for many years she was my only love. Riding many trails, competing in many shows, we spent every minute together. Tina sold her mare, and purchased a lovely spanish riding mare who she bred and raised some very nice foals out of. The dream of raising Arabians was just beginning.
In 2006, Joel Green and I (Ashley Camp, now Green) were united in marriage. We also bought a lovely 10 acre farm the same year. Joel Green also is an avid Arabian enthusiast. Together we enjoy riding with one another and spending time around the farm. We have two great farm dogs. A German Shepherd (Annie) and an Australian Shepherd (Bindi). They get along great with the horses. We purchased our stallion, Stetson Bey in 2006 and started breeding to him. We purchased Stetson somewhat on a whim, we were not particularly looking for a stallion, but I ran across him and had to have him. He has everything it takes to be a good stallion and we are so excited to see what he continues to do for our breeding program.
Hunter Green and Brooke Green are the two wonderful children of the farm! Pure joys to be around and are learning the real life of living on the farm!
Valiant Arabians is located in the central part of Iowa on a small 10 acre farm. We have an outdoor arena, a 6 stall barn, and many outside pastures for the mares. This small farm makes it perfect for raising foals. Our foals are handled daily and learn to trust humans, pick up feet, accept shots and worming. Our stalled horses are turned out on a daily basis to just "be horses." We hope to someday grow into a bigger farm, more acres and more stalls. But until then, we're pleased with what we do have.
We would like those of you that are in the area to please stop by! We love visitors and love showing off the horses!